James, our inspirational volunteer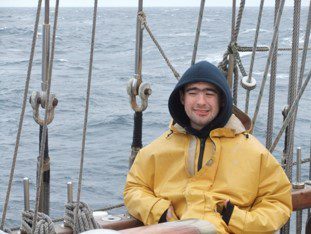 I've no doubt that at some point in all of our lives we have already or certainly will meet at least one truly inspirational person in our lives. Since working with and now for the Alice Charity I have had the pleasure of meeting an amazing bunch of people whether it be one of our Alice Families, a volunteer, a co-worker or any one of a number of our supporters. They all in their own way are absolute hero's with everything that they do to pull together to make the world even just a little bit better for us all to live in.
I work with a brilliant team of volunteers that give up their time to help keep the People's Pantry running and one in particular James, a volunteer driver for us, is without a shadow of a doubt a massive inspiration to me and in fact to a number of families that he's met along the way.
James has had cerebral palsy since birth but he hasn't let that stop him living his life to the fullest at every opportunity he can, always likes to keep himself busy whether it's supporting his local football team, sailing or getting out on his bike in the Peak District. On top of all that James has managed to get himself an HGV Driving License, as a teenager he swam for Great Britain in the World Games and he was Sports Personality of the Year for Stoke-on-Trent in 2007. He has also been part of a sailing crew that made a massive voyage around the world stopping off at various locations along the way, there has been a book written covering the trip and James took part in getting it written.
He is an absolute pleasure to work with and his love for life is infectious and this shines through when he's out and about delivering to our families, we are always getting brilliant feedback from our families saying what a genuinely nice person he is.
If you would like to get involved and work with an amazing bunch of people at the Alice Charity please get in touch either via the website or contacting the office on 01782 627017