Life can change in the blink of an eye!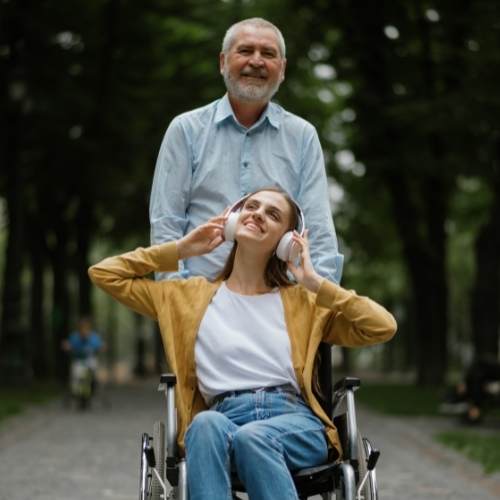 Life can change in the blink of an eye. We can wake up one morning and before we close our eyes that night our world has completely changed. At Alice we sadly see this every day, lives turned upside down through no fault of their own.
For one family this was a stark reality when mum was in a car accident that left her with severe spinal injuries and unable to walk. The family struggled with life with a baby, as mum had a manual wheelchair which meant she was unable to leave the house alone. Dad took care of mum and baby but due to the mobility restraints was unable to leave mum, which meant that he was unable to work.
With no money coming into the home and relying solely on benefits, the family struggled financially.
Once referred to Alice, their family support worker Jayne worked with them to understand how they could best be supported. The Family craved their independence and wanted life to be as it was before. An electric scooter would allow mum to be able to go out of the house alone with the baby. Jayne secured a grant for the family to get mum an electric scooter. This has been life-changing for the family, providing mum with her independence and allowing dad to go back to work.
Mum said" All I can say is thank you for everything! You've been a great help and before you got involved, we didn't have many things in our house, but after you first came our house started to feel more like a home, you've been a great support for me and my family, anything I've asked you've been able to help, the biggest thing for me is that you gave me the freedom I was looking for with the electric scooter. It changed my life so much. I can't tell you how happy I am that is finally happening. All I can say is that you are a great person and great support for families in need '
We want to support more families in our local area, we need a little help to ensure our services can continue running. If you can help to support local families please Donate Now – Alice Charity