Volunteering at People's Pantry, donating a carpet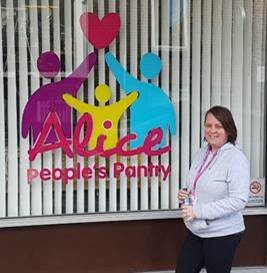 Once again it has been a crazy week at the People's Pantry with families needing our help and support more than ever. Thankfully, we have an absolutely awesome team of volunteers that devote any spare time that they have to help out wherever they can. Our team has had to grow rapidly to support the increase in demand, some of volunteers came to support the pantry because they have been furloughed and want to use their spare time to support their community at a time of great struggle.
Some volunteers are retired or semi-retired with a few hours to spare and want to put those hours towards supporting vulnerable families. Some are working and have managed to squeeze a few hours of voluntary work in to support their community. Whatever their circumstance or reason for volunteering is they all come with an abundance of enthusiasm and dedication to the charity that is second to none, because of our fantastic volunteers we can continue to support as many families as we do.
One of our volunteers Penny who comes into the pantry a couple of days a week whilst running her own business with her husband has been volunteering with us since before Christmas. Penny began started volunteering after regularly donating to the Pantry, Penny would donate food on a regular basis and whilst donating she offered to help. Quite rightly, we snapped her hand off! This week Penny has gone above and beyond, not only has she volunteered her time helping out at the pantry and doing deliveries but she's also brought with her two bags full of easter eggs her daughter has kindly donated to our Easter Egg appeal and has been going to local supermarkets and getting hundreds of carrier bags to help us make up food parcels for families.
We have a project called Buckets of possibilities which is all about making a house a home, creating positive and comfortable homes for families to thrive in. This helps families to improve the condition of their homes, making their living spaces safer, warmer and happier places to be, providing a nurturing environment for their children, part of which is done by fitting carpets, hanging curtains and decorating the space they live in. Penny heard all about this project and was inspired and wanted to help even more. Penny and her husband own their own business, FitzJohn Flooring Limited, they have offered to help some of our families who are in need of flooring by going to  measure up, take samples and carpeting their homes. This is an amazingly kind and generous offer, we are truly grateful.
We are always looking for new recruits and volunteering at Alice is a great way for you to develop and gain new skills, meet new people and support your local community. It will enhance your CV, improve your employment prospects, help you to build confidence and will make a real difference to the lives of others. We have various roles within the charity, such as, Family Support, Big Cup and People's Pantry. We train all our volunteers in their role, work with them to develop their skills and ensure they are fully supported. Volunteering makes a huge difference to the work we do at Alice Charity, as it enables us to support many more families in Stoke On Trent and Newcastle Under Lyme.